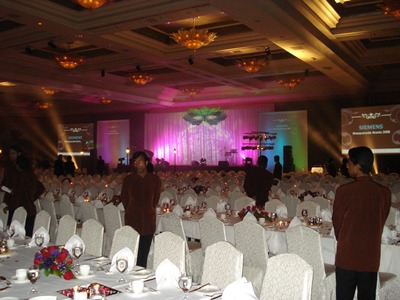 I did it again; I have donned on that mask again for my annual dinner and dance this year after the last masquerade party in my company.
This year, in this company, they also decided to choose the masquerade theme for their yearly function.
I don't get it, what's with the masking effect where you can't even show your face to the public?
On a lighter note, I am intrigued by the fancy dresses and costumes inspired by this theme since the Renaissance period and who will not think of the Phantom of the Opera when the word masquerade is mentioned?
Made popular by the movie and the mystic feel of this theme, it has been widely used as the themes in most parties and even corporate functions!
In the earlier months, our HR has already circulated emails to seek the opinions of all the employees on their favored themes for the upcoming annual event. We were required to vote from 3 themes:
1. Masquerade Mania
2. Carribean
3. Exotic Hawaiian or something like that
No prize for anyone who guessed the finalized theme; since I've already revealed it in the post title.
I was stunned for a while when they announced the results as last year, yeah, just last year, I went through the Masquerade night as part of the organizing team!!
Yeah, I was sort of the theme style-design choreographer in my organizing team and was in charge of the deco, posters, layout and even tickets design!
Needless to say, I was definitely in the know about this theme.
I was looking forward to something more new, exciting and interesting; something which I've never experienced, oh well, I just decided why not, go ahead and let's see what they have in store this year.
After all, new environment, new people and I am not even in the organizing team!
For a change, it's back in my hometown this year where I have my beloved family members to give their opinions on my attire, etc and I can give my wardrobe a big hug, something to cheer about, eh?:)
I arrived on Thursday night; late night flight as the following Friday morning, there was another scheduled event in another hotel.
We even get to go off at 3pm to get ready for the dinner and dance!
(That was actually the cool part; although I doubt that we'd have enough time to prepare for the dinner; especially the ladies...hairdo, make-up, dressing up, etc etc)
Great for me, this year I didn't want to waste my money and time on all these; as I dread the horrendous traffic should I get stuck after all that wonderful work.
Furthermore, my 'sisters' are not around so half the fun's gone!
I had plenty of time; and I was on time despite the matching of my shoes, bags, hairdo, etc to snap a picture of myself before I headed out the door.
It rained rather heavily that evening; kinda dampened my spirits a little....remember that song sung in Grease?
~ It's raining, on prom night...my hair is a mess... It's raining, it's raining...oh oh oh~~
Yeah, baby, exactly how I felt at that time, although I wouldn't want my hair to be a mess!
Due to the heavy downpour as well, the traffic was rather bad! Bummer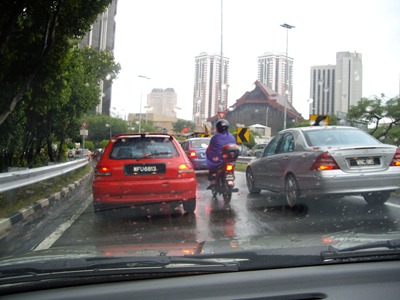 I arrived there on time and was greeted by wonderful environment; which made me feel like a princess.
After all, this is Mandarin Oriental; one of the 5-stars hotel in the capital city!
I walked up the spiral stairway which was covered with red carpet all the way; wow, talk about extravagance!
I was considered the early birds; judging by the crowd at that time.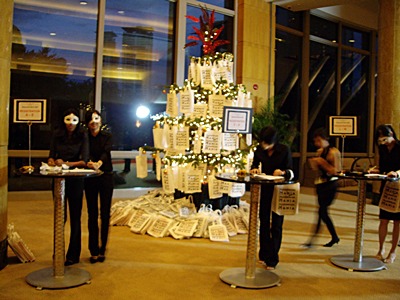 I was led to the registration table; and the deco were so cool, isn't it?
I love the way they formed this magical gifts tree; which they used to hang all the door gifts on it.
Great idea; noted...
They even have a hall of fame!
You stand behind this make-up backdrop, which was lined with red carpet(again!) and you get your picture taken by a professional photographer and you will get the hardcopy of your photo printed and embedded within a memorable photo frame later.
FOC!!
Talk about stardom; this is ultimate Hollywood-nism man!
A peek into the Grand Ballroom; admittance was restricted before the start of the function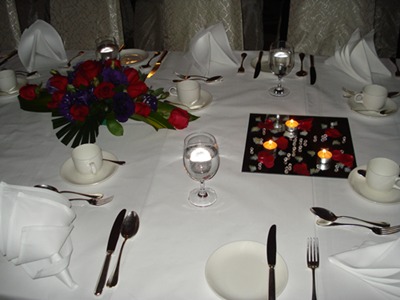 Taking a good look around, there were so many interesting costumes around!!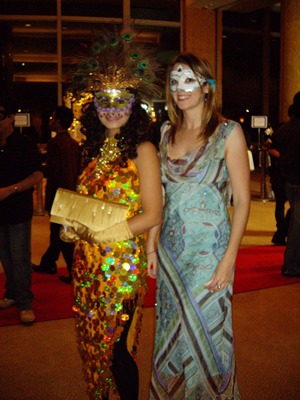 These people are really into the theme huh; I bet they spent $$ and time on their make-ups and attires.
I am impressed by the good sports in these people, who took the effort to appreciate the theme!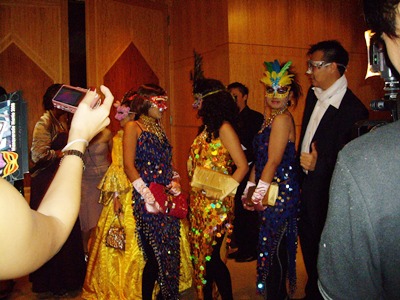 The Mask of Zorro!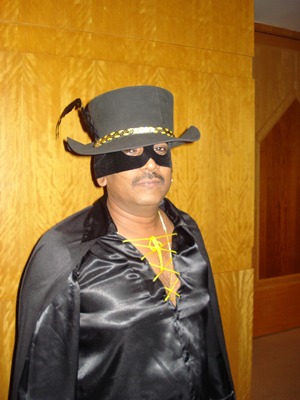 And his friend, Sor Lou? (No pun intended; and no offense)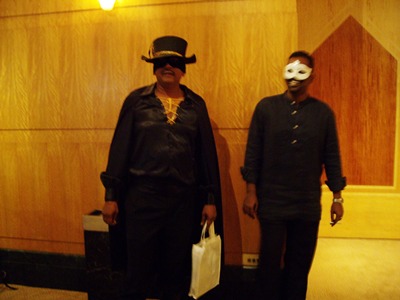 I applaud the cool factor in these gentlemen; for dressing up for this event.
I could cry tears if I was the organizer to see so many theme-abiding folks this year; compared to my last party.
Look, I spotted another cool guy who donned a Renaissance costume; kinda like Francis Light/Stamford Raffles or those Victorian styles back then (as my bro said)
This is what I call STYLE!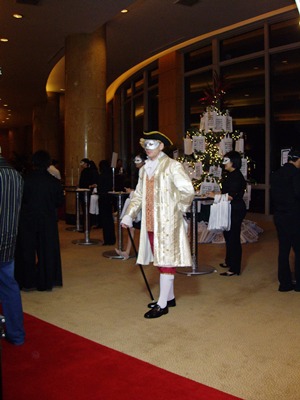 I couldn't resist taking a pic with this German guy who was obviously the center of everyone's attention!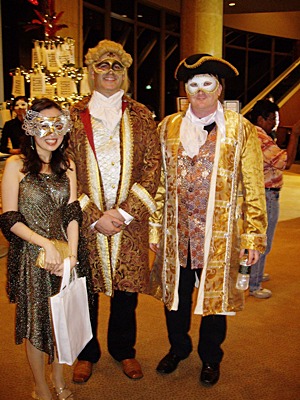 And I love this girl's mask, which was DIY from the white mask frame given by the company!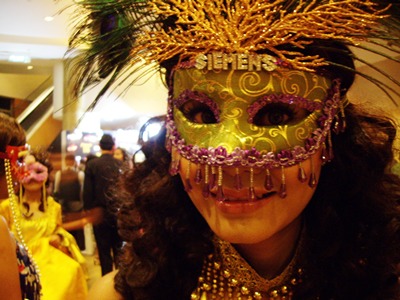 They even had a magician; a rather amateur one but nevertheless an entertaining guy who makes an effort to keep the crowd happy:)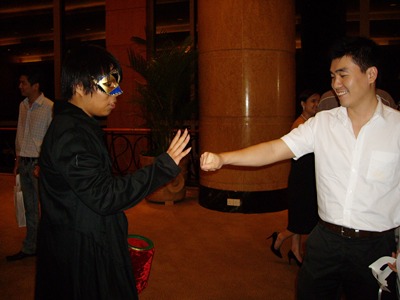 And this is our President; a sporting guy who also made his own black and white mask:)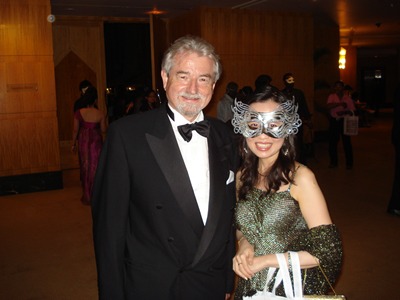 Some random pics of my colleagues; we traipsed through the red carpet and also cam-whoring everywhere!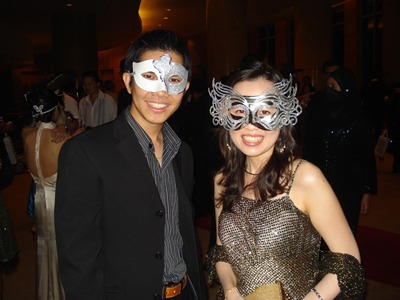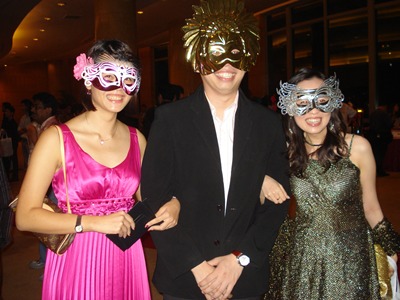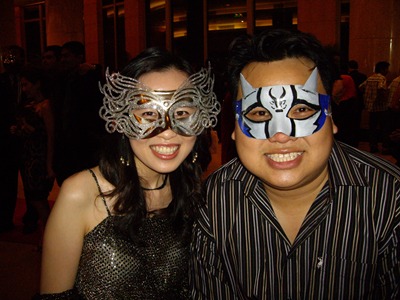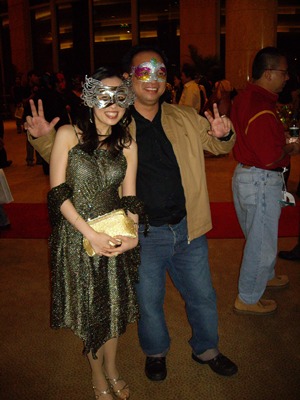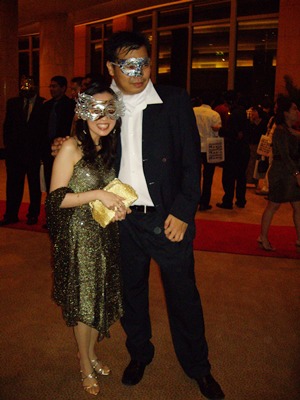 Finally, the start of the event at about 8.30pm
The ballroom doors were opened and there was a loud chiming of the opening beats of the Phantom of the Opera song!
(That was the idea I proposed to my team last year! But it was banned, saying that this was such a sad tune:(
I am glad my idea was rather creative after all; I should be an event organizer, huh?:)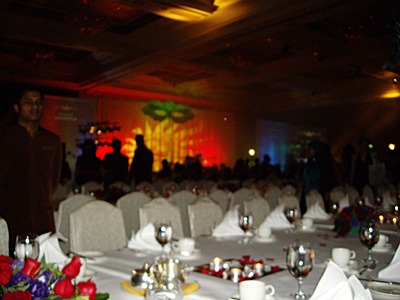 Lovely lovely.....I loved the settings
We marched into the ballroom; and the ladies were greeted by costume-fitted servers who handed us fresh roses from their baskets (the roses had slightly wilted; but I was still thrilled by the extravagant welcome:)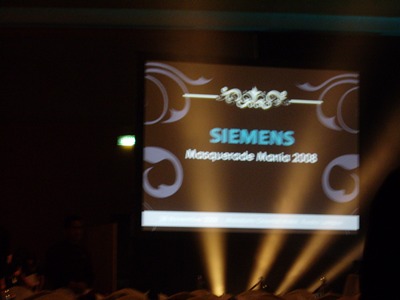 They had a big mask on the stage; which was also the same thing I thought of my annual dinner last year; and I even used that for our opening ceremony!
Lightings were dim, and laser lights were beamed around the room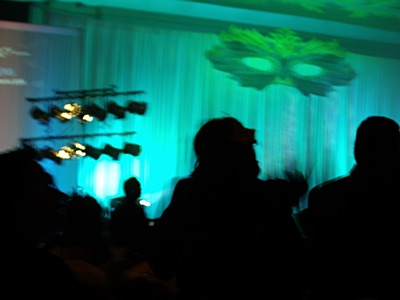 There were light scented candles with petals of roses on our dining tables; which were arranged in long tables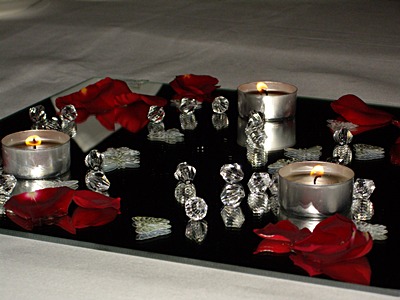 They even had an amplified voice of the Phantom which gave the opening boom and the orders that everyone is to have fun and nothing but fun for the whole night!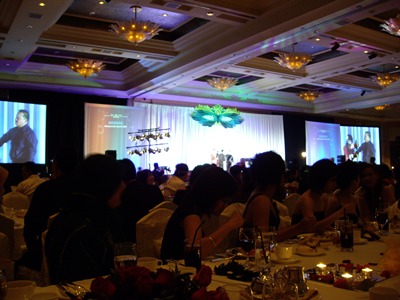 Did I mention how much I was enjoying the night?
The deco, the settings, the music, and the food was buffet style; and they had the courtesy to let the ladies to the buffet line first before the gentlemen.
There were so many performances and games that night; and the lucky draw prizes were cool as well.
Only bummer; I didn't win anything despite the beautiful number I had on my ticket:(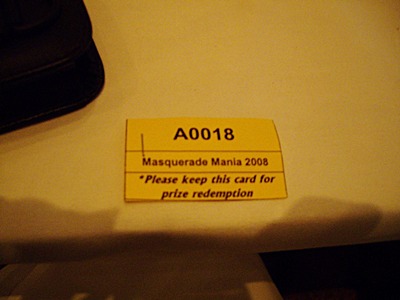 Oh well, they had additional draws the week after, and I still won something - consolation prize:)
So, better than nothing.
This was definitely a night to remember!
*But please, no more Masquerade themes*
I was told that this event was partly organized by an event planner and I was thinking, hey, most of the ideas were similar to mine....hehe, am I qualified or what?
Just some wishful thinking:)