I start to think that this year is a bad year for my skin's well-being..or rather, foot well-being!
The last round, I was injured - right knee
And you're right, I am injured again; this time, my left foot!
Oh my, it was supposed to be a minor abrasion; but I think it turned out really bad and these few days, I kinda dismissed the pain although I had been limping to work.
I put on a brave front and forced myself to walk without a single limp in front of my colleagues and thankfully, no one noticed!
But I couldn't hide the pain anymore and when antiseptic cream applied doesn't work anymore, I had to do something.
I went to the doctor, and initially she thought it was nothing as well....but then, she also said it may have gotten septic!
OH MY!
No injection required, but I am put on antibiotics for the prevention of further infection.
Amazingly, that wound is not huge; rather little; about 5-6 cm in length?
And yet, the pain is rather gigantic in effect!
Gosh, I am really unlucky yeah?
I grazed the foot against a huge tree trunk and I thought it was nothing major on Monday morning as I left for work.
I proceeded to work without having time to tend to the wound until after work; which was about 8-9 hours later...guess that's the key contributor to my pain now!
I was told to scrub my wound!
The doctor said, "You need to scrub your wound!"
And my selective hearing thought she said, "Did you scrub your wound?"
To which I nonchalantly replied, "No, I didn't...."
I didn't manage to finish my reply when she pounced on me almost immediately, "I said you need to scrub your wound, what do you mean you didn't! How dare you?"
Now, talk about selective hearing, and we both burst out laughing
Too bad I can't laugh anymore when I limped out of the clinic
And looked down at my wound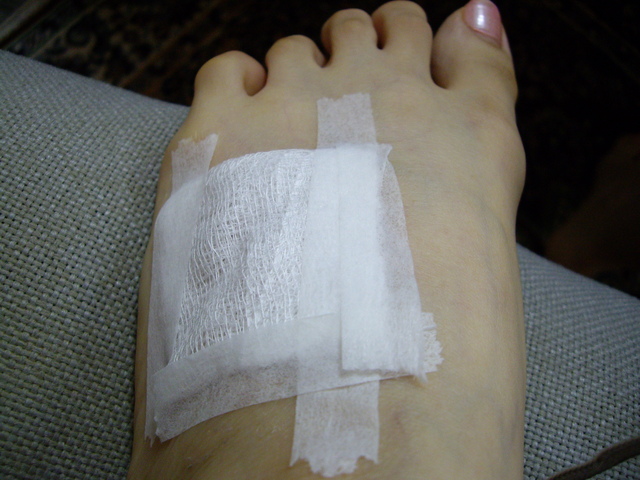 Is this a year of injuries and bandages?
*TOUCH WOOD*!!!